Facebook Chat Poll: You may be thinking what a Facebook poll is. If you don't know what a poll is, a Facebook poll is a survey to get information on the perspective about something on Facebook user or it could be a voting activity. You know, where you have Mr A, Mr B and C, whoever has the highest votes wins. That's a poll.
Having a Facebook poll on your timeline would be fun, it would also help to acquire more friends to your Facebook account, why not try it out now by following these basic steps below;
Check out: How to change Name of Facebook
Open the Facebook App on your Android device.
Click on What's on your mind.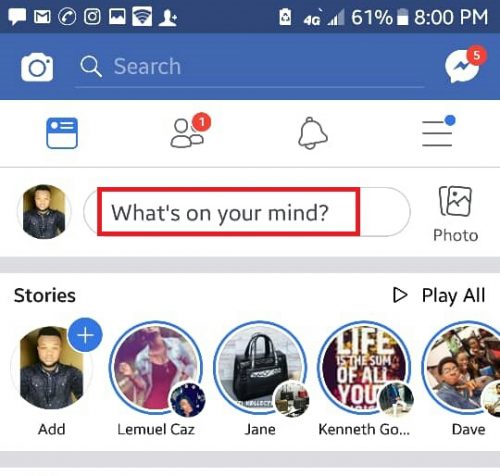 Scroll down and click on Poll.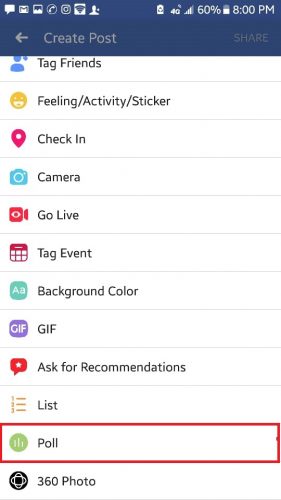 Fill in details like (Ask a question or Name of poll, Include options or Names of contestants)
Set poll Expiration time. (When the poll will End).
Click or tap on share to make poll visible.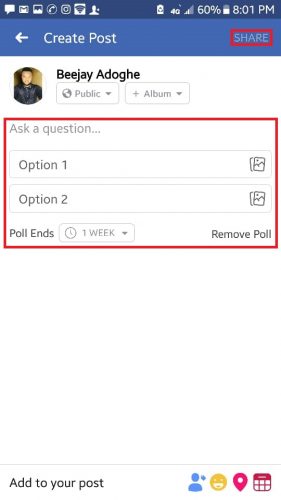 You can spice up your Facebook poll by tagging all your Facebook friends to your poll, add an activity, sticker or feeling, you can also tag an event or check in your present location. All these are basically going to spice up your poll and make it more compelling and attractive.
See also: How to Unblock ID on Facebook
I hope this was helpful to create a poll on your Facebook Timeline? Why not spread the word and share this article to your friends and family.