Poll App For Facebook Business Page: Facebook has so many valuable tools for its business page, one of it is the polls or in common language, "Ask a Question". More than a billion people knows how to use it, the ability to access information is much better because it's easier to get to it. Your social media network should consist of current customers, prospects, and industry influencers.
In order to initiate a poll on your Facebook business page, do the following:
Check out: How to Change Facebook Profile Picture
Sign in to your Facebook business page.
In the Update Status box, click the plus sign (+) next to Event, Milestone.
The screen shown in the figure appears.

Select Question, and type your (brief) question in the box that appears.
Select Add Poll Options, in the lower-left corner.
Select Add an Option, and type an answer to your polling question. Repeat as necessary.
For example, you see two answers for the question.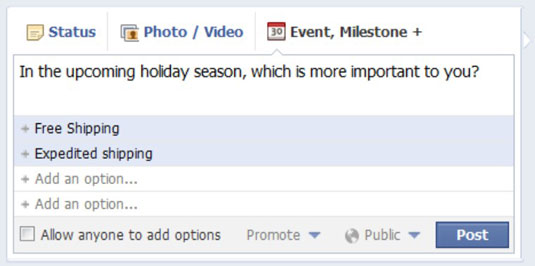 Select or deselect the Allow Anyone to Add Options check box.
You might get some interesting suggestions if you select this option.
(Optional) To promote the poll, select Promote.
Select Post to launch your question.
The poll appears on your page as a status update. As people vote, the votes for each option tally instantly within the post.
Read also: Reactivate Facebook Page
I hope this was helpful? Kindly share this with your friends so they can learn to add poll app for Facebook business page.